Erebus is a responsive/adaptive Rapidweaver Theme. Test it by resizing your browser window
Erebus Premium Rapidweaver Theme

Erebus is an animated & responsive theme with amazing style options. This theme uses the best & latest HTML5 / CSS3 practices to give it a unique look & feel while still keeping form & functionality. Erebus has been designed to be compatible with all browsers & really shines in modern browsers. Check out which browsers support what here.
*IE is supported back to 7. Full animations only in modern HTML5 / CSS3 browsers.

jQuery is a powerful javascript library that works in all browsers. Through this powerful tool Erebus has Increased mobile functionality, responsiveness, browser support & general functionality. jQuery requires less code than conventional javascript which means your web pages will load faster.
l
121 Icons
91 Modern Icons & 30 Linkable Social Media Icons
(
3 jQuery Plugins
Animated Menu, Camera Slideshow, & Pretty Photo Viewer
r
12 Fonts
6 Standard Fonts With Weight Control & 6 Unique Fonts
e
10 Theme Styles
Customize To Fit Any Style With Complete Color Control
%
19 Textures
Subtle Modern Textures to Fit Both Light & Dark Themes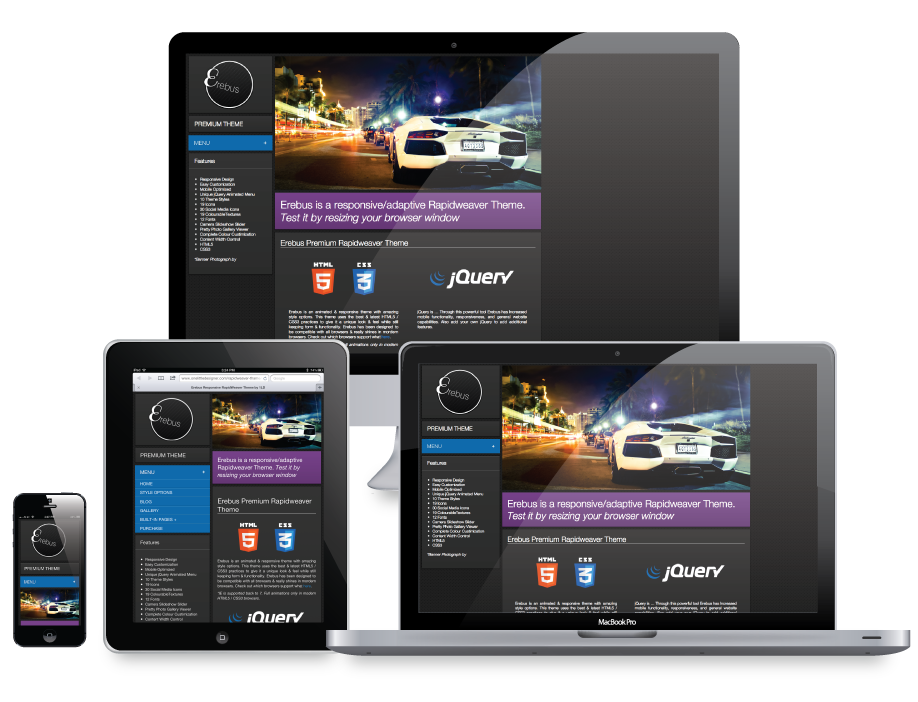 This theme uses CSS & jQuery to automatically detect the size of the screen used to access to your web page. Then the layout of the page is adjusted to fit the resolution of the phone, tablet, or monitor. Erebus was designed for & tested on the most popular phone/tablet devices on the market.
i

Purchase
Premium Responsive Rapidweaver Theme
Erebus features some awesome web animation effects, clean layout, along with a very rich and engaging mobile display. You can purchase the theme today by clicking the link below!
?

Get Support
1LD support team
Here at 1LD we are happy to help with any questions you may have with our themes. We are constantly updating our tutorials page with new content as our customers make requests. Check out the growing tutorial section here. If you have any questions be sure to visit our site and contact us through our support section.
Go To 1LD Homepage